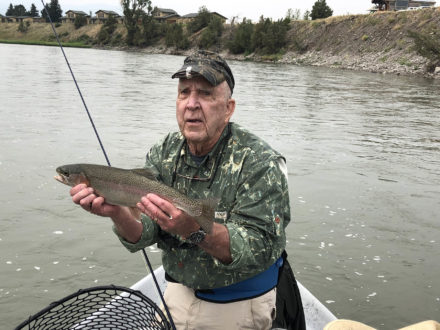 August 2-7 – Montana – Pat and John Steele
Fishing in Montana, after over a year and a half's absence from any fly fishing, was restorative. We came home exhausted, yet refreshed.
We began our five day trip in Bozeman, and fished the Yellowstone River, which, because of summertime low water and high water temperatures, was observing so-called "Hoot Owl" hours, restricting fishing to between 6 AM and 2 PM, in order to not over-stress the fish. We enjoyed catching many healthy, robust rainbows and browns, taking care to snap photos quickly and return the fish to the water as fast as possible.
The second day we were in Bozeman, the guide took us to the Madison River. We were a bit reluctant to fish there, as it has been historically very crowded with other boats, and the water at this time of year is pretty darn skimpy. We were pleasantly surprised to find it not too terribly crowded, and the water higher than we expected. The fishing was likewise much better than it has been in the past few years we've been there.
The third day we picked up a car and drove to Helena, and fished the following two days on the Missouri River. The first day there, we fished in a drift boat. We passed by the railroad tracks where the thieving eagle had stolen John's hooked fish two years ago. I guess he/she wasn't on duty this time. The population of nice, robust rainbows seems to be as good if not better than it has been in the past years.
The last day was the cherry on the sundae, as we fished from a power boat on the "Land of the Giants" part of the river, right above Holter Dam. The fish here are phenomenal, you have to resist the temptation to clamp down on your reel, or tighten your drag, you must be patient and let them take out line, jump, try to get tangled on the boat, and be strategic about how you go about landing them. They don't get big by being stupid or meek.
The terminal tackle used in both places was sub-surface stuff, crawdad/shrimp imitations, with a dropper called a "Friskett". In deeper water, a split shot was added to get the flies down. Chucking this rig isn't very visual and doesn't require a whole lot of finesse, but it does get results.
Kudos go to our outfitter, Ed Lawrence, who has done several presentations to our club, and his able guides, Tim Schwartze and Captain John Hall. We also need to cite several handy apps for land transportation, Uber and Turo. Turo is a peer-to-peer car rental app, and we were very happy with it, the pick up place was within walking distance of the hotel, the car was immaculately clean, and the cost was a third of what a commercial rental car place would have been.
This having been our first fishing foray since the pandemic shutdown in March of 2020, we weren't sure about how it would go, but we were reassured that there still is a world out there, and the fish still like us. Go forth and fish, stay safe, stay well!
Pat and John Steele
Posted on August 23rd, 2021